At Blackrock Canyon our main goal is
to help your company look it's best.
Customized web design, solid business collateral, a memorable logo, educational ads and colorful brochures will set your business up to succeed in a world where your potential customers are bombarded daily with a variety of visual stimulation from competitors and non-competitors alike. In this day and age your business needs to stand out from the rest, and we can give you that extra special something to give you a leg up in whatever industry you are involved. Take advantage of over 15 years of industry and business experience.
Why choose a freelance designer over an in-house designer? You get the experience of a talented graphic artist on a pay-as-you-go basis. It couldn't be any simpler. Don't worry about employee 401K's, medical benefits, keeping up with the latest technology, or even paying someone to take a break...work is billed on an hourly basis and you only pay for the time involved in creating your designs. You won't have to arrange for any employee benefits either. For larger projects a flat rate can also be negotiated. I can work around most budget constraints.
Contact me with your design project or for more information.
It's time to take your small business or startup to the next level...
Some of the greatest ideas in history have come from the little guys. You've put in the work to build your business, now let us help you get your name out there. We have solutions to help you succeed.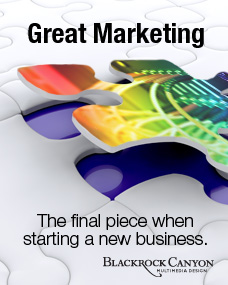 Contact Information: mindy@blackrockcanyon.com